Award for Seada Fekadu comes as number of Eritreans granted protection in the UK plummets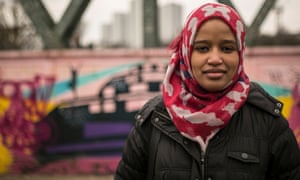 A young Eritrean woman who fled to the UK after her father was arrested for his political activities in her home country will receive an award for helping and inspiring other migrants and refugees.
Her award comes as the number of Eritreans granted protection in the UK has plummeted after a change in Home Office advice on asylum requests from the repressive east African country.
At 16, Seada Fekadu's world was turned upside down when her father was arrested for his work with the opposition in Eritrea. Fearing for her safety, an aunt paid for Fekadu to escape the capital, Asmara. Fekadu took a boat to neighbouring Djibouti, caught a plane to Paris and made her way to Calais, where she and others were smuggled in a lorry to London's Waterloo.
Fekadu went to a nearby police station, was handed over to social services and was granted refugee status by the Home Office after three months. Five years on, Fekadu speaks about her dangerous voyage as if describing a commute to work.
"In Calais, they put you in a truck, you don't have a choice. 'You have to take this one,' the agent said. I didn't know where I was going. The truck dropped us near a police station, they found us a translator and after two hours, social services came," she said.
In a sense she was one of the lucky ones. Fekadu arrived in Britain before the current migration crisis currently engulfing Europe. Getting to the UK in the back of the truck was relatively easy in 2011. Since then, Fekadu has built a new life. She is studying for her BTec – physics is her favourite subject – and has offers from four universities to study biomedical science.
"I want to become a doctor to help people, it's about saving lives. I've wanted to be a doctor since I've been a child," she said.
She has also been volunteering with Young Roots, a charity that helps young refugees. A social worker put Fekadu in touch with Young Roots soon after she arrived and she is now returning the favour by helping recent young arrivals referred to the charity.
"Young Roots helped me gain confidence. Now it's my turn to help others," she said. "I've been in their situation so I can understand them and I'm happy to help. They are young, I am young, we are like friends."
(…)
The UNHCR estimates that 5,000 people leave Eritrea every month and Eritreans account for the largest group of people applying for asylum in the UK, with 3,729 applications in 2015, a 48% increase over 2014. Eritrea also had the highest number of unaccompanied asylum-seeking children last year at 694.
As a result of the Home Office advice, the proportion of initial decisions allowing Eritreans to stay plummeted to 48% in 2015 from 87% in the previous year. Meanwhile, the number of appeals from Eritreans soared from 172 in 2014 to 1,718 in 2015. Eighty percent of those Eritrean appeals determined in 2015 were allowed (which means refugee status for five years), an increase from 44% in the previous year.
(…)