The symbol, used in Japan to denote Buddhist temples, has been deemed confusing and will be replaced by a pagoda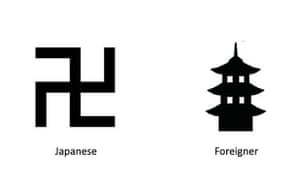 With Japan due to host the Rugby World Cup and the summer Olympics in the next four years, the country's Geospatial Information Authority has released a new set of pictograms it believes will clear up any misunderstandings among overseas visitors.
The chief culprit is a symbol closely resembling Nazi Germany's swastika, which is used to indicate a Buddhist temple. The swastika will be replaced with a three-storey pagoda symbol when the new designs are unveiled at the end of March.
Others have simply left visitors flummoxed. They include a simple "X" – meant to represent two truncheons – for a police box that will be replaced with a saluting officer, and a cross that is supposed to symbolise a church but which could be mistaken for a graveyard.
"Japan needs to create an environment where foreign visitors can easily use transport and find accommodation," the GSI said in a report quoted in the JapanTimes. "For that purpose, it is especially important to disseminate multilingual maps that are easy for foreigners to understand."
Japan is expecting an influx of foreign tourists for the 2019 Rugby World Cup and for the Tokyo Olympics a year later.
But a weaker yen and relaxed visa regulations for visitors from China and other Asian countries have already sparked a huge increase in the number of visitors, new tourism ministry figures show.
A record 19.74 million people visited Japan last year, the ministry said this week, an increase of more than 47% from 2014. The number of incoming tourists outstripped the number of Japanese people going abroad for the first time, it added.
Inbound tourism suffered in the aftermath of the March 2011 tsunami and Fukushima nuclear disaster, but it now looks likely that Japan will achieve its target of 20 million tourists next year, four years ahead of schedule.
The decision to replace the swastika came after the GSI polled more than 1,000 people from 92 countries, including tourists, embassy officials and exchange students, about the clarity of 18 symbols commonly used on maps.
Despite the swastika's origins in the ancient language of Sanskrit and its centuries-old association with Japanese Buddhism, the GSI found that many tourists still associated it with the Nazis.